Vai al contenuto
rapper per un giorno
L'evento conclusivo del laboratorio creativo "Rapper per un giorno" sviluppato per il Progetto Europeo I.COM avrà luogo Martedì 26 Ottobre 2021 alla Villa Medicea di Seravezza si svolgerà un incontro alla presenza dei partner internazionali.
L'iniziativa coinvolge circa duecento studenti di sette Paesi europei.
Co-finanziato da the Asylum, Migration and Integration Fund dell'Unione Europea, I.COM ha avuto come capofila la Fondazione Terre Medicee di Seravezza, e l'Alfea Cinematografica ha partecipato come Partner insieme all'Unità di medicina sportiva dell'Università di Pisa, la Maison des Cultures et de la Cohésion Sociale di Molenbeek (Bruxelles), Arts Council di Malta, Association Pluralis, Technological University Dublin, KISA ONG di Cipro, Organization for Aid to Refugees (OPU) di Praga e il Comune di Cenes de la Vega (Granada).
Partito nel Dicembre del 2018, e prorogato al 2021 per ragioni legate alla pandemia da Covid19, I.COM si è posto l'obiettivo di costruire un nuovo approccio all'integrazione dei giovani migranti e degli adolescenti con disagio, attraverso una serie di laboratori di musica rap. I.COM si è rivelato vincente per la scelta di veicolare il proprio messaggio attraverso la musica, arte capace di unire e mettere in relazione persone di ogni provenienza e cultura.
Rivolto a minori, migranti e non, il laboratorio musicale realizzato a Pisa tra Aprile e Luglio scorso dall'Alfea Cinematografica, ha visto la collaborazione della Cooperativa Sociale "Il Simbolo", che svolge da più di 20 anni un'attività rivolta ai minori in stato di abbandono o momentaneamente privi del sostegno genitoriale. Al termine del laboratorio i ragazzi e le ragazze partecipanti hanno avuto la possibilità di utilizzare uno studio di registrazione audio professionale, in cui hanno inciso alcuni brani musicali creati durante la loro esperienza, dando vita ad un vero e proprio album.
Tutta l'attività del progetto è stata documentata con riprese video e foto, in tutti i Paesi Europei coinvolti nel progetto, ciò ha permesso ad Alfea Cinematografica di realizzare un documentario con lo scopo di dar vita a un momento di condivisione del lavoro svolto tra i vari partner.
Il documentario I.Com e il CD musicale realizzato dai ragazzi saranno presentati all'evento conclusivo.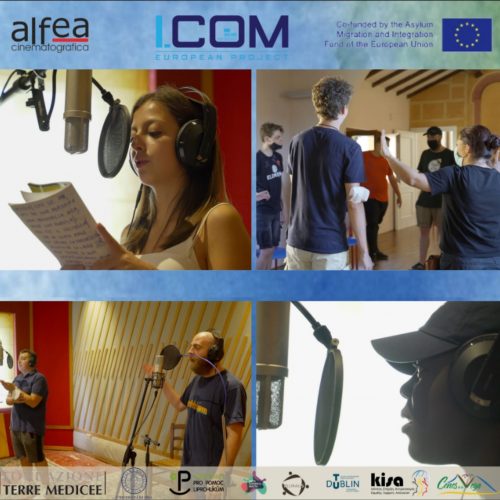 seguici su: